Angry Food Riots Are the New Face of Hunger
DUBAI, United Arab Emirates, April 9, 2008 (ENS) - Warning that spiralling food prices are leading to increased poverty and unrest, several senior United Nations officials are calling for urgent measures to tackle the global crisis, which is causing the most suffering among the world's poor.
The World Food Programme's deputy executive director is warning of a "new face of hunger" that will require the combined efforts of governments, the private sector, and humanitarian organizations to overcome.
"Food prices are now rising at rates that few of us can ever have seen before in our lifetimes," John Powell told the Dubai International Humanitarian Aid and Development Conference, DIHAD, a three day event that opened Tuesday at the Dubai International Convention Centre.
Powell said he is concerned about the fact that markets are full of food, but large numbers of people simply cannot afford to buy.
Last month, the World Food Programme said it is seeking funding to close a $500 million gap caused by the global spike in food and fuel prices, which have increased by an estimated 55 percent since last June.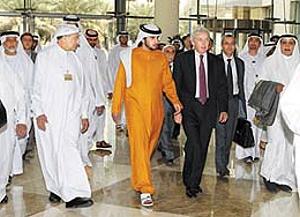 DIHAD participants welcome UN official John Holmes to the Dubai International Convention Centre. (Photo courtesy DIHAD)
Yesterday, at the same conference, UN Under-Secretary-General for Humanitarian Affairs John Holmes warned that rising food prices could spark worldwide unrest and threaten political stability.
In the past few weeks, violent protests over rising food prices have occurred in a number of countries, including Burkina Faso, Cameroon, Egypt, Senegal, Morocco and, most recently, in Haiti, where four people died in food riots last week.
The Haitian riots are continuing despite orders to stop from President Rene Preval, and 9,000 UN peacekeepers have not been able to end the looting and violence over rising food prices.
The world's largest food distribution agency, the World Food Programme has called on donors once again to urgently support its operations in Haiti, which has been particularly vulnerable to the spike in costs.
So far the agency has only received 13 percent, or $12.4 million, of the $96 million required to assist 1.7 million people in Haiti, the Western Hemisphere's poorest country.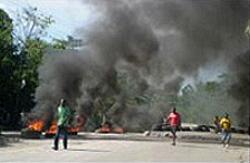 Hungry Haitians set tires ablaze in a riot over rising food prices. April 7, 2008 (Photo courtesy UN)
As a result, the World Food Programme says it barely has enough funding to support operations throughout April.
Holmes, who is also UN Emergency Relief Coordinator, discussed the issue of high food prices today in meetings with officials in Kuwait, the latest stop on his four-nation visit intended to encourage greater partnership with Gulf states in international humanitarian efforts.
"I have found a shared concern around the region about the potential effects of the current structural shift upwards in basic food prices across the world," said Holmes.
"Tackling this global issue is a long-term challenge to the wider international system, but meanwhile we need to be aware of the short-term humanitarian effects in terms of increased hunger and greater strain on our resources in trying to combat this," he said. "This is a huge common problem we have to address together."
There are ways to enjoy learning about this overwhelming problem - two games through which players can help.
Food Force, the world's first action game about hunger and the importance of humanitarian work in Arabic, was unveiled at the Dubai conference on Tuesday.
Created by the World Food Programme to raise awareness among students about global hunger, players join a virtual team of WFP experts to get food to the needy in an emergency situation, a race against time.
The game, which was first introduced in English in 2005, has been played by some six million players worldwide. It is available as a free Internet download at www.food-force.com/ar, along with information about WFP and its work.
Another game puts free rice into the bowls of needy people at: http://www.freerice.com/index.php. Free Rice is an Internet vocabulary game that donates 20 grains of rice for each word the player gets right in a multiple choice format.
The nonprofit FreeRice.com is a sister site of the world poverty site, Poverty.com.
Started in October 2007, Free Rice has now donated 25,846,953,850 grains of rice, paid for by advertisers on the site. The rice earned by correct vocabulary choices is distributed by the World Food Programme.
"World food prices have risen 45 percent in the last nine months and there are serious shortages of rice, wheat and maize," Dr. Jacques Diouf said today.
Director-General of the UN Food and Agriculture Organization, FAO, Diouf was addressing the first Global Agro-Industries Forum in New Delhi, India.
A combination of factors, including reduced production due to climate change, historically low levels of stocks, higher consumption of meat and dairy products in emerging economies, increased demand for biofuels production and the higher cost of energy and transport have led to surges in food prices, he said.
Director-General of the UN Industrial Development Organization Kandeh Yumkella, told the New Delhi conference, "Climate change will impose great stresses on the world's ability to feed ever growing populations. This challenge brings new threats to arable land areas, livestock rearing and fisheries through droughts, water shortages and pollution of land, air and sea.
"It is, after all, agricultural and livestock production that provide the raw materials that are basic to human existence," said Yumkella, "especially food."
The United Nations estimates that the cost to end world hunger completely, along with diseases related to hunger and poverty, is about $195 billion a year.
Copyright Environment News Service (ENS) 2008. All rights reserved.