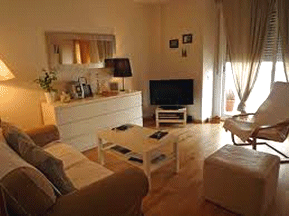 For his first night in Palo Alto, François goes to a cheap hotel.

Monday morning, he walks to a rental agency.

He asks the clerk if they have flats available.

  There is a flat with a living-room and two bedrooms in a high-rise.

  They go to see it. It is located on the fifth floor of a modern building.

  It is spacious and luminous. It is fine, thinks François.

  The next day, in a coffee shop, he finds a roommate.

  Werner comes from Germany. He is fat and good-natured.

  In the afternoon, François calls Margaret.

  She says that she has friends in Palo Alto.

  She invites him to come with her to see them on Friday evening.