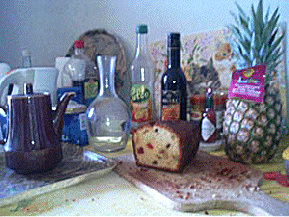 At the store, yesterday, he bought flour, eggs, sugar, butter, yeast, salt and raisins.

So, he has everything he needs.

He sets the temperature of the oven to 350° Fahrenheit, and he begins to prepare the dough.

In a large bowl, he pours two cups of flour. Then he breaks four eggs and starts to mix the dough.

After a few minutes of kneading, he adds a quarter of pound of melted butter and another quarter of pound of sugar.

Finally he puts in the raisins, some salt, and the yeast.

W.: Are you making a cake? asks Werner.

F.: Yes, I am. We cannot eat it yet. It must bake for one hour.

When it is ready, François pulls it out of the oven, and puts it in a dish on the kitchen counter.

It must cool down before they can eat it.

It must not be eaten right away because it is too hot.

Meanwhile François goes out for a walk.

When he comes back there is no more cake on the counter! Only a few crumbs are left.

Werner comes out of his room, looking very embarrassed. He apologizes:

W.: I'm sorry, François. I tasted your cake, and it was so good that I could not stop, so I ate it all.

W.: Tomorrow it is going to be my turn to make one. I hope you will forgive me then.