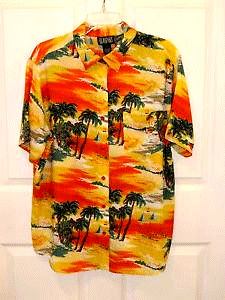 Hawaiian shirt

On Friday afternoon, François and Margaret meet at Francois's place.

They are invited to come to Tom and Susie's home in the evening.

F.: Where do they live? asks François.

M.: They live in College Terrace. It's a district of Palo Alto near the university.

M.: At seven o'clock. Americans like to begin the evening early.

F.: And how are we going there?

M.: Oh, it is within walking distance. We shall go on foot, if you don't mind.

  Tom and Susie live in a two-storey wooden house with a little backyard.

  Tom is in his forties. He is of average size, stocky, with blond hair. His face is round and he smiles easily.

  He has built a nice fire in the living room's fireplace, and he has put some music on.

  Susie is shorter than her husband. She is slim, with long brown hair, and an East Coast touch of elegance.

  She brings a tray of snacks and sweet and savoury biscuits.

  The four of them spend the evening chatting in front of the fireplace, eating, and drinking Californian wine.

  They talk about life in the United States which François is discovering for the first time. And they talk about life in France which the Americans have visited several times.

  The Americans are very friendly. They try to understand François's English.

  They have an international culture. The rooms of their house are lined with bookshelves of pocket books in several languages.

  Near the end of the evening, Tom wants to make François a gift. He offers him to choose a shirt in his collection of rayon Hawaiian shirts.

  The Frenchman picks a colourful one, yellow, green and red, from Tom's dressing.

  After a couple more glasses of wine from Napa Valley, they say goodbye and part.