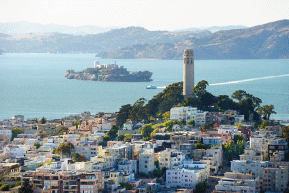 San Francisco

M.: Why don't we go spend the day in San Francisco?, asks Margaret.

She is eager to show her friend the city where she grew up.


F.: That's fine with me, says François.


M.: How shall we go there? There is a bus, but it takes hours.

M.: Oh yes, that's a good idea.

F.: I will love to drive on Highway 280. I was told it's one of the most beautiful highways in the whole country.

San Francisco is located at the northern tip of a peninsula which separates a bay from the Pacific ocean.

After a half hour drive, they arrive in San Francisco.

François wants to park on Union square.

M.: We would get a fine. Let's go to an underground parking lot.

Then they take a cable car to go to Fisherman's wharf.

On Ghirardelly square, they buy ice creams.

They spend a few minutes listening to a pianist playing Dixie music on the back of a pick-up truck.

François relishes the ambiance of the city.

In the distance, they admire the majestuous Golden Gate bridge linking San Francisco to Sausalito on the northern side of the bay.

After a few hours of strolling around the city, they return to Palo Alto via Highway 101.