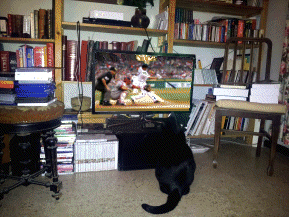 Werner and François are spending the evening at home.

They are watching a baseball game on TV, trying to figure out the rules.

They slouch on the couch, their feet on the coffee table.

It is littered with magazines and beer cans on top.

F.: Do you read the New Yorker?, François asks Werner.

W.: I try. But I can't understand a thing.

W.: Anyway. So, how was your outing the other day in San Francisco with your girlfriend?

F.: It was great. This city is marvellous, built on many hills, and surrounded on three sides by the sea.

F.: From anywhere you are, you have a wonderful view. And you can't imagine how lively it is.

F.: Margaret took me there because that's where she was born and grew up. She wanted to show her city to me.

F.: By the way, I should call her to thank her for that fine day out.

At that moment, a phone rings somewhere in the flat. It's Werner's.

F.: I think I can hear it ring in your room.

W.: Werner speaking. Who is it?

Werner has a brief conversation with someone. Then he hangs up.

W.: Angela, a girl I met at the cafeteria two days ago.

W.: She comes from Berlin, Germany.

F.: Do you think it's the best way to learn English?

F.: Shouldn't you rather try to find American friends?

W.: Perhaps you're right. But – you know – she helps me be less homesick.

Later in the evening, François calls Margaret.

She invites him to come and have tea at her place next week.