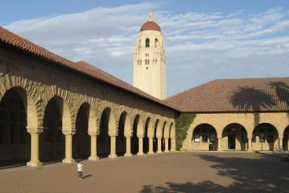 Stanford University Quadrangle

This afternoon, François has a date at five thirty with Margaret.

He has been waiting for her in the Quadrangle, the main building in the center of the university, for already a quarter of an hour.

They have agreed to visit the campus together.

At ten to six, he is looking anxiously at his watch when he sees her arriving.

She is tall, with long chestnut hair, a pair of jeans and a sweatshirt. She walks with the gait of a queen.

François's heart beats faster and harder in his chest.

M.: Hello François. How are you?

F.: Hello sweetheart. You look wonderful!

M.: It's so kind of you. You haven't been waiting for me for too long, I hope?

F.: I arrived a few minutes ago.

They begin walking under the arcades which border the inner side of the Quadrangle. The style is inspired by Spanish California Mission architecture.

F.: Where do you study, Maggie?

M.: I'm finishing the undergraduate cursus at Foothill College majoring in choreography.

F.: Why aren't you enrolled at Stanford?

M.: My mother and I, we don't have enough money. The tuition here is $40 000 per year. This is way above what we can afford. And undergraduate scholarships are hard to come by.

M.: Besides, for years I wanted to be a dancer. At Stanford they do have a Theater and Performance studies program, but when I checked some years ago they weren't teaching classical ballet.

M.: Not as much as I used to. It's too demanding. For a living, I do some modelling with a photographer who sells my pictures to magazines. I once appeared in Vanity Fair!

M.: Let's not talk about that. Come along, darling. I'll show you the campus.