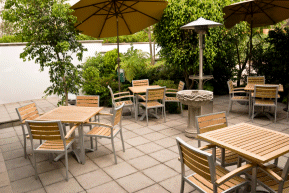 outdoors cafeteria

It is five o'clock in the afternoon on a weekday.

After class, François likes to go and spend a moment at the cafeteria to unwind, before putting some more hours of work in the evening at home.

In the open air area set up with tables and chairs outside the cafeteria, he spots Werner in great conversation with a girl looking like Marlene Dietrich.

W.: François! Come over. Have you met Angela?

He gives her a long look from head to toe.

F.: Pleased to meet you, Angela.

A.: Hello, François. Werner had told me about his roommate who liked to cook. He's so happy to share his flat with you. Glad to meet you.

F.: What is it you are drinking? It looks pretty nice.

A.: It's a piña colada, a mix of rum, cream of coconut, and pineapple juice. You should try it.

F.: Margaret is meeting me at five. She should be here anytime now. Though punctuality is not an outstanding quality of hers.

F.: I'll wait till she comes, if you don't mind.

After five minutes, she shows up, walking her body upright as though she were treading on eggs.

M.: Hello dear. How is it going?

Then, glancing at Werner and Angela:

M.: Can you introduce me to your friends?

F.: Angela, Werner, this is Margaret. Margaret, here are Angela and Werner.

François convinces her to try a piña colada too. He asks the Germans if they want anything else, but they don't. He goes to order.

After a short lull, Margaret asks:

M.: Are you in Palo Alto for long?

W.: I study at the university. I'm here until next June.

A.: I came last summer, and will stay till the beginning of next year. I decided to take a year off my studies in cinema in Berlin. Next I plan to go on to Beijing.

Werner tries to look composed, but a tinge of sadness can be seen fleeting in his eyes.

Back with the cocktails, François announces:

F.: Margaret and I are going to Carmel this weekend. Will you come with us?

M.: There is a Spanish mission in Carmel. It's one of the best preserved. It's really worth seeing.

W.: Yeah, let's do that. How are we going there?

M.: When we go somewhere far away, we usually rent a car. It's rather cheap.

F.: Well, this is organized then. Let's all get together at the flat Saturday morning at nine.